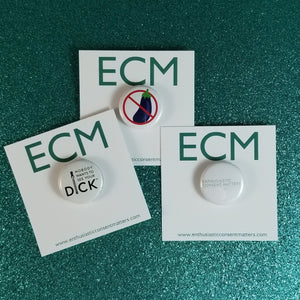 If the #nobodywantstoseeyourdick card is too much for your sensibilities, the ECM pin card is perfect for you.  But don't worry, the glow in the dark dick button IS still included!
3 1" buttons each with their own message on our #ECM pin card. 
1 classic Nobody Wants to See Your Dick glow in the dark button (that's right, it glows)
1 classic red circle cross out eggplant button
1 classic teeny tiny lettered Enthusiastic Consent Matters/NWTSYD button. 
All great ways to express your thoughts or start a conversation.  You need them.  Today.